Press release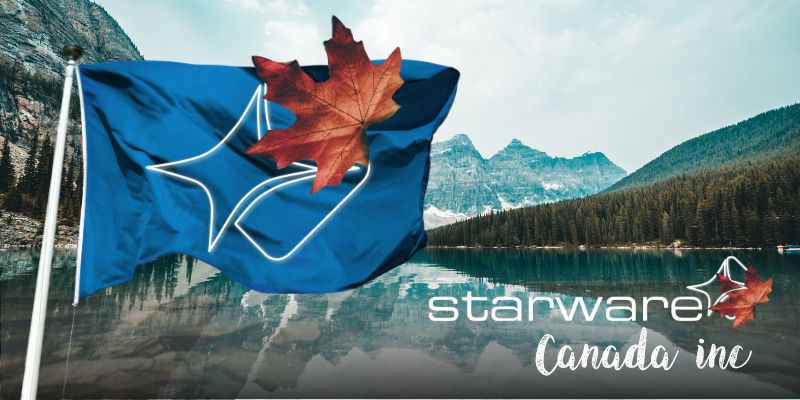 Dutch warehouse management system-development firm chooses Toronto as location for its North American headquarters
Toronto, December 1st, 2020: Starware, a Dutch company that performs warehouse management system development, is pleased to announce the launch of its new Canadian subsidiary, Starware Canada Inc., selecting Toronto as the location for its North American headquarters.
Starware has established operations in Toronto to leverage market advantages, such as the Eastern Time Zone, to relieve the company's nightly support standby shifts in Europe, improving the work-life balance of its employees. Its secondary goal is to attract local clients to help improve the processes inside Starware's fulfilment centres with the WMS software of Blue Yonder. Starware worked closely with Toronto Global, a team of experienced business advisors assisting global businesses to expand into the Toronto Region, as well as the Canadian Trade Commissioner Service in The Hague.
"We realise that this news might come off a bit strange in the middle of the second wave of a global pandemic," said Roland Stilting, Co-Owner, Starware. "This year, we have witnessed numerous impactful changes in the world's most successful supply chains. Our team, whom we care about deeply, has done a great job working from home almost exclusively for the whole year to help our customers prepare and adapt to those changes in all their fulfilment centres. This meant we had plenty of work and many challenges before us."

Over the past few years, Starware has seen its number of large accounts growing, along with a demand for 24/7 support for the company's fulfilment centres. When a nightly standby shift became a key part of operations, Starware realized the implications this had on its employees' lives. That's when the company decided it was time to implement a "Follow the Sun" support model. In this model, Starware can provide local support for its customers from locations around the globe.

In their quest to find a suitable location, Starware owners Marc Roelofs and Roland Stilting recalled becoming enamoured with Canada in previous visits, and their first impulse was to consider a location here.
"The more we started to look into Canada, the more we noticed the similarities with the Dutch mentality and business climate. Besides, Toronto has one of North America's largest and fastest-growing tech sectors, so in the end, it was an easy choice," said Roland Stilting. "Especially the support of the team at Toronto Global really made a difference in making our move to Toronto as seamless as possible."

"The Toronto Region has emerged as a North American leader in technology," said Toronto Mayor John Tory. "As our region continues to fight this pandemic, it's very encouraging to see international businesses continue to choose the Toronto Region as a place for investment. I'm thrilled that Starware will call Toronto home, to leverage one of the most educated and diverse workforces in the world, create jobs for our talented residents and contribute to regional economic recovery and growth."

Starware is currently working hard to onboard its first overseas employees remotely, in order to start assisting its customers in Europe, the Middle East, and Africa. As the Dutch company expands in Canada, its goal is also to initiate business development for local clients to grow sustainably in both Europe and North America.


About Starware
At Starware, we perform warehouse management system-development, meaning we help our customers to define, design, implement, test, and support all aspects of a modern fulfilment centre with the best software on the planet: Blue Yonder WMS.

We are specialised in running complete implementations of Blue Yonder WMS, migrating existing WMS software, and adding new features to the Blue Yonder WMS using the rich extensibility possibilities. We have worked on over 500 projects in the world's most successful supply chains. Furthermore, we have the biggest accredited team for Blue Yonder WMS in Europe and third in the world.


Media Contact
Carmela Peiro
Brand & Marketing Manager, Starware
[email protected]
Visit our job page starware.nl/jobs