Great Scott, was this only day 2??!!! The date we experienced the zeroes was actually: Friday 02-09-2022 and 09-09-2022.

Needless to say that getting up at 7:00 after such a day and night is no easy feat, but surprisingly the whole crew was there. Some people were more talkative than others but hey, we made it on time into our time machine for the next part of our adventure. A new mixtape with instructions of the day by Doc & Marcy was sent to everyone so that they knew what to expect today.

In the zeroes, Starware transitioned from a hardware company to one that focussed on software and services for logistics operations. The Starware events in those years were action-packed, adventurous weekends in the Belgium Ardennes and Iceland. On a side note, Marc made it his mission back then to visit every Michelin-star restaurant in Europe. He's currently halfway to his goal.
Anyway, this day was all about action, adventure, and experiencing new things!

After a short ride, our time machine arrived at st Feliu de Guixols, where the amazing guides of AVENTURA GIRONA were waiting for us to take us on our adventure.

Based on your physical fitness and sense of adventure, everyone could choose from 4 different experiences.

The first one was a hike along the old smugglers' trail next to the beautiful coast of the Costa Brava, with amazing views along the way.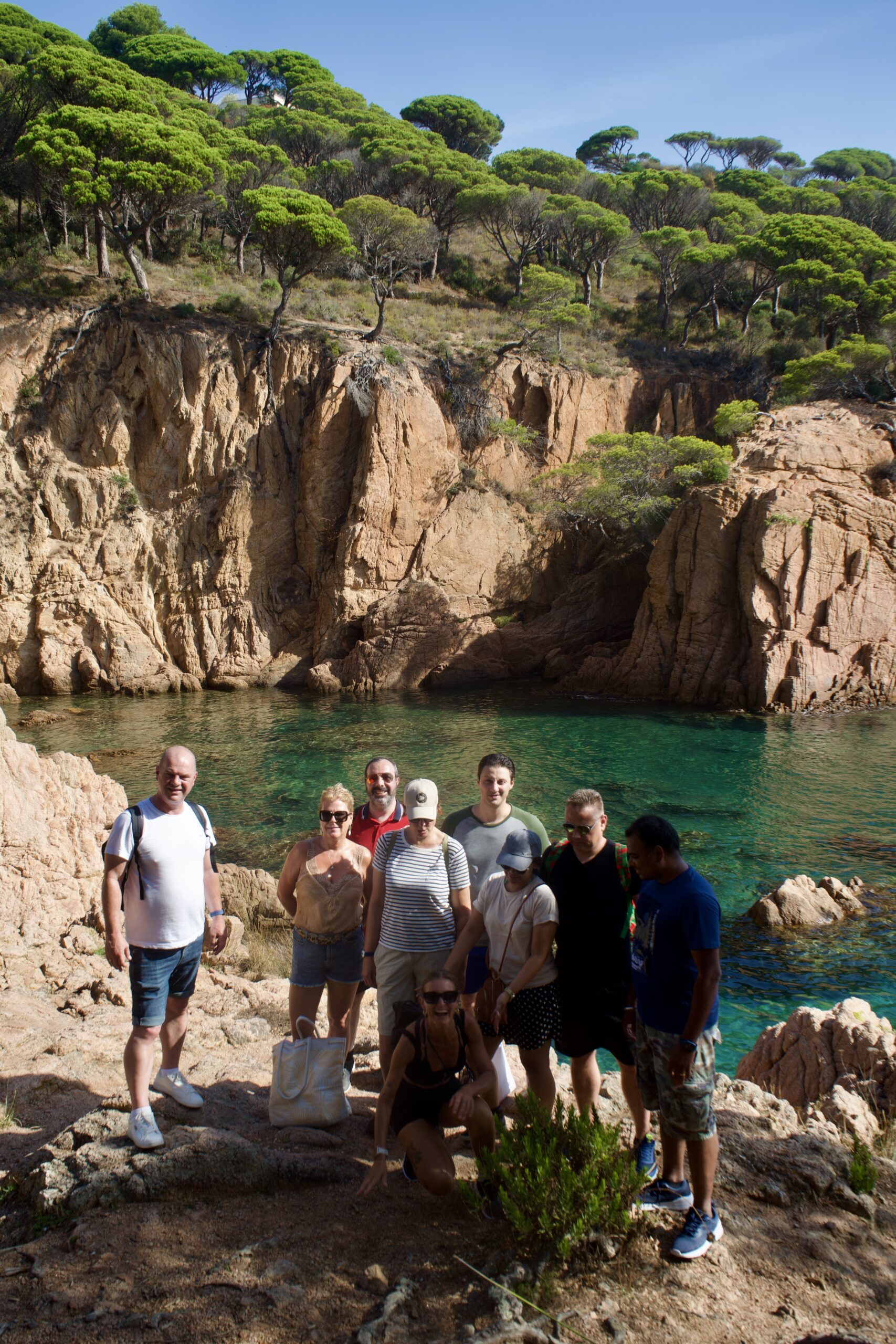 The second one was a trip with sea kayaks along the same coast. We could visit hidden coves, learn, and snorkel with the sea life that was abundant at this location.
Not surprisingly, the waves (and possibly that last drink from the previous night) got the better off one of us, as he kindly donated his breakfast to the local marine creatures.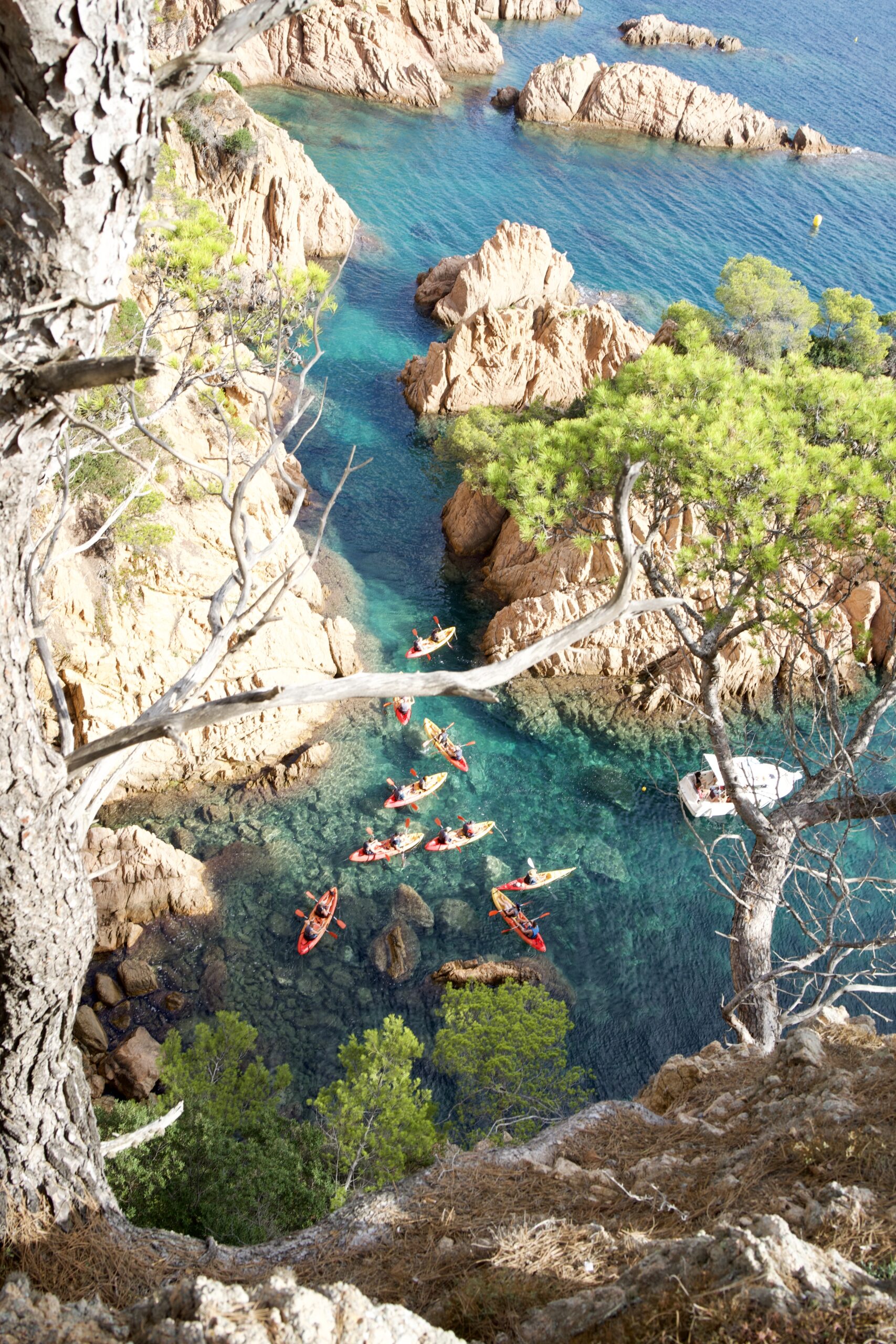 The third adventure took place on a Via Ferrata on cliffs high above the water. The first weekend I decided to overcome my fear of heights and join in on this adventure. It's a pretty technical way of climbing as you are constantly securing yourself with carabiners and sometimes just hanging suspended in your climbing harness on one of them. All in all, I managed to do the course with a small group. I was very proud of myself and thought I could easily audition for the next Indiana Jones movie…. for a week. Then Andrea, from the second group, told me this was really the beginner's track, it felt more like an evening stroll and they didn't understand why they needed the ropes in the first place. Ah well, the memory was nice while it lasted 😂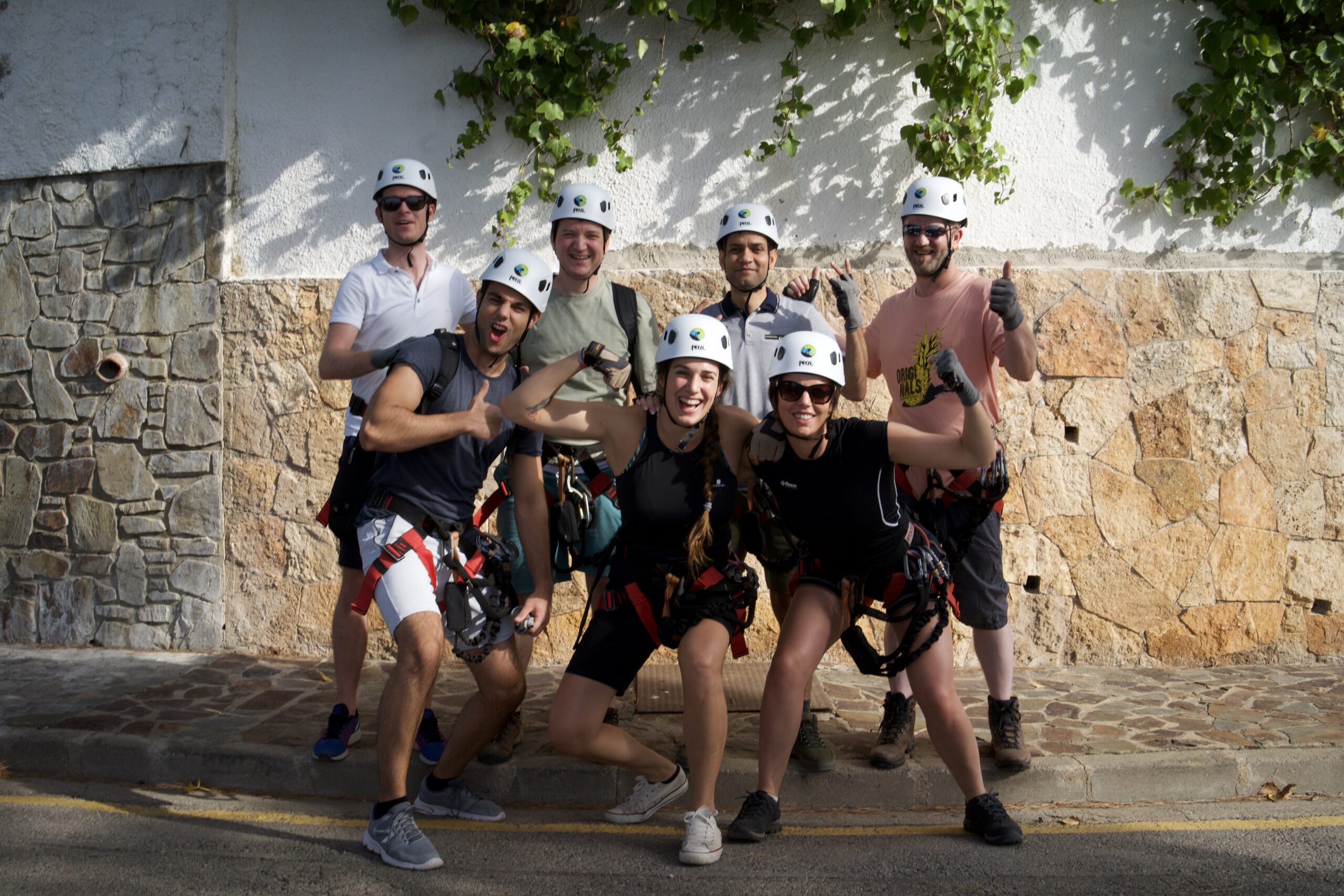 The fourth experience was for the real daredevils: coasteering!
When the guides told us what it entailed, I was looking at them as if they had lost their minds, but our own adventure specialists Andrea and Carlos convinced me that this was perfectly safe. Coasteering means that you put on some boots, a plastic helmet, and a wetsuit and you float on your back in the ocean… Until you see rocks of course. Then you'll just climb them with your bare hands and booted feet and jump off! The brave souls that did this went up to do jumps of nine meters! The pictures were awesome though!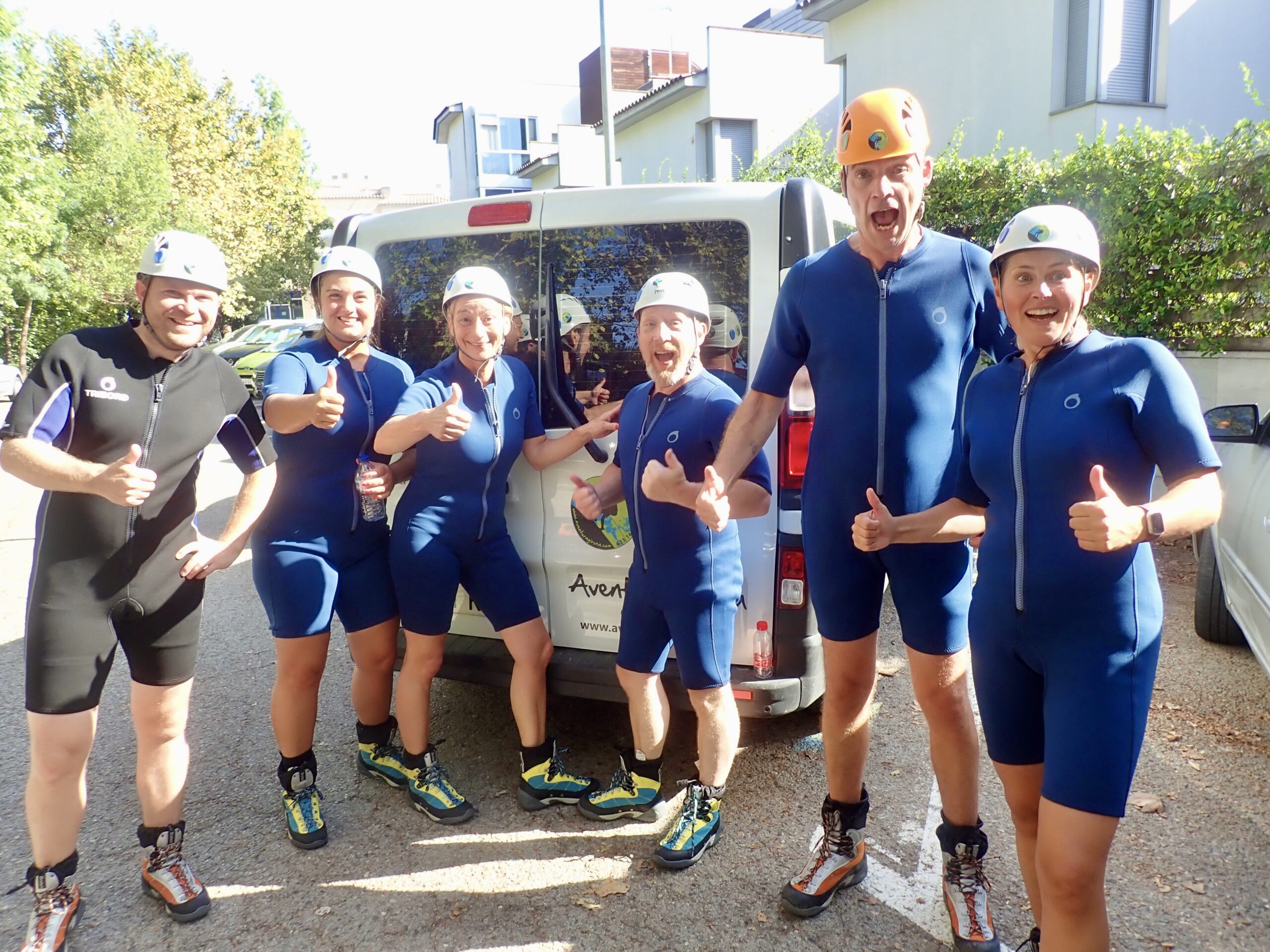 After everyone returned to the bus, people were pretty much destroyed and took some well-deserved naps. We were driving north and people started to wonder if we would go back to the Netherlands by bus as we were approaching the Pyrenees and the French Border.
In antithesis to the day before, our destination was the small town of Peralada at the super de luxe five-star Hotel Peralada. Our bus made a nice contrast between all the Bentleys, Maserati's, and Porsches, and all these sweaty people in their adventure outfits blended in very well with the rest of the clientele, of course 😉
After everyone had taken a shower and put on some decent clothes, again a fantastic lunch was served in the hotel and everyone could catch their breath a bit by spending an hour in the pool or the hotel spa. It was also nice to see so many of our personal towels on the deckchairs at the pool!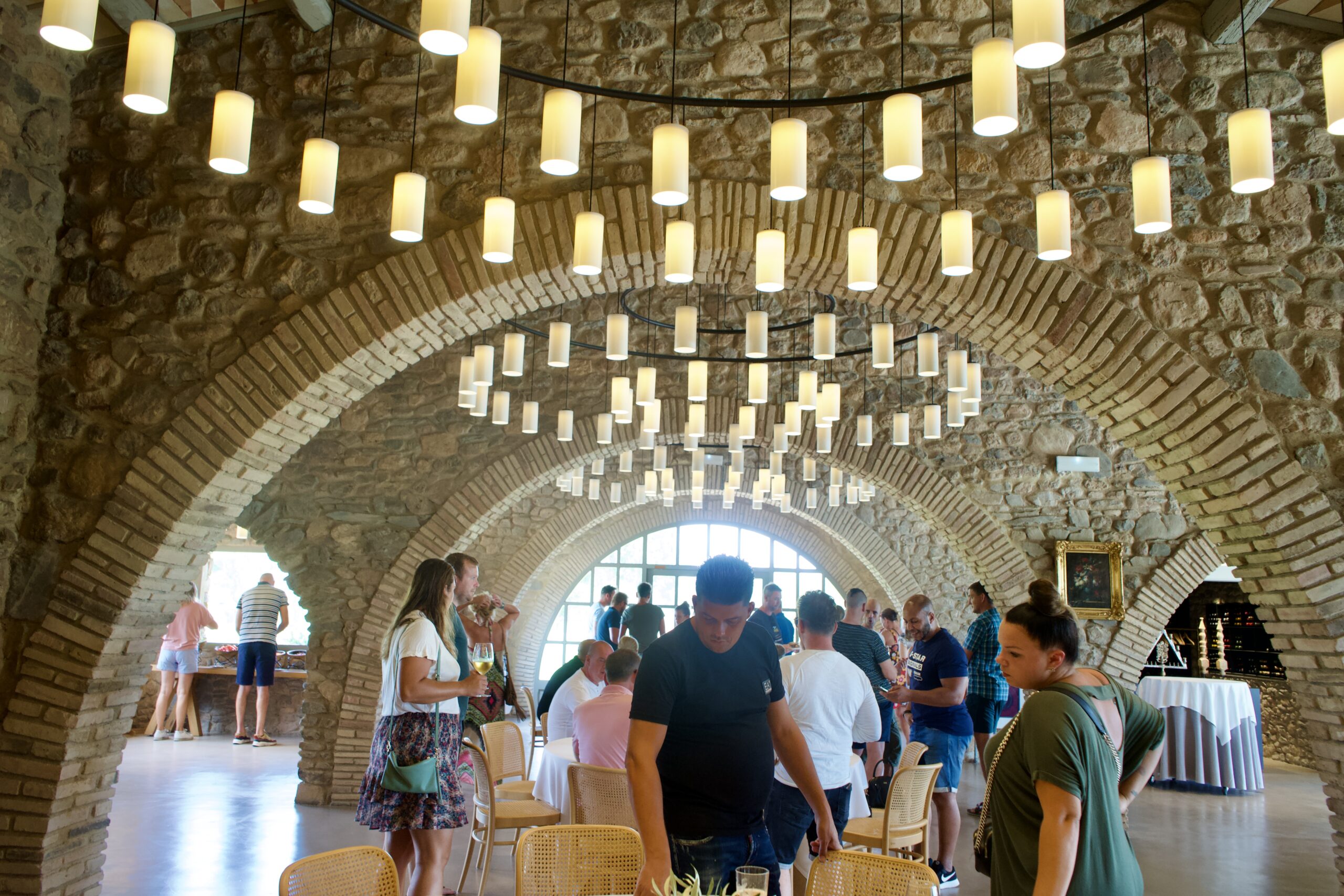 After lunch, we told everyone to be ready and dressed for a romantic evening at 18:00 at the reception. Everyone entered the time machine again for a very short ride to the breathtaking Perelada Winery. When we did the recon trip back in July, people kept pushing us to see the wine cellars of the town. We were a bit reluctant as it didn't sound too appealing until we laid our eyes on the estate and visited the cellar. It is an architectural wonder and the whole experience is meticulously crafted. Of course, the beauty was lost on some people that just couldn't wait for the wine tasting, which tasted as great as the structure looked.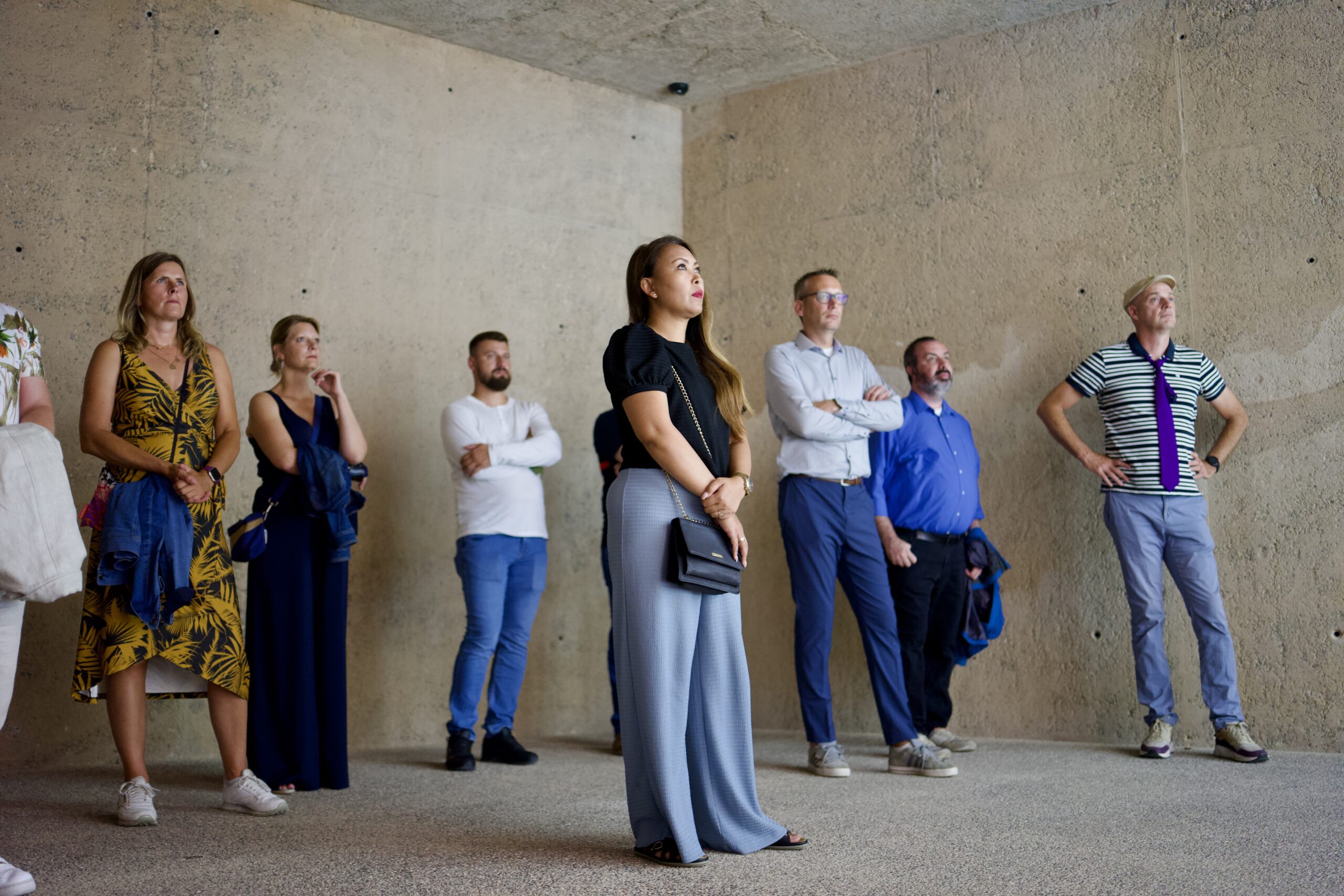 Then it was time for the grand finale of the day, our big culinary adventure!
Adriana took us for a short walk through the gardens of an amazing nearby castle. To everyone's surprise, this was going to be our restaurant for the night. The amazing Michelin star restaurant of Castell Peralada.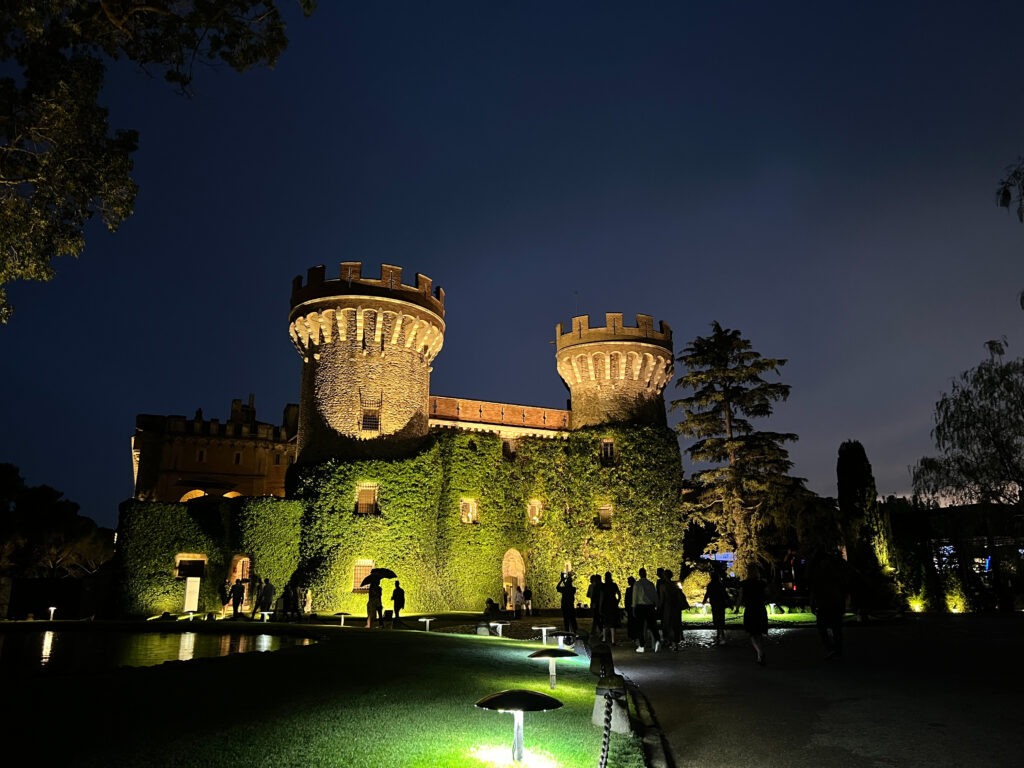 A table that would make Putin jealous was prepared especially for us in the main dining hall and it looked absolutely amazing. When we sat down and took a look at the menus that were specially prepared for Starware, people started to ask me which dish I was going to choose. At that moment I forgot we went for the full tasting experience and we were going to be served all 15 exquisite courses on the menu. The chef Javi Martínez really outdid himself, and Toni Gerez and his crew were a joy to watch. It's truly amazing how they can cater to such a large group so fast. In everything you can really see they enjoy their work. I hope they were two memorable nights for them as well. I guess it doesn't happen often that, after every announcement of a course, a room full of customers starts to applaud and cheer for you loudly 😂 We just blame the great wine paring at every course 🥂 😉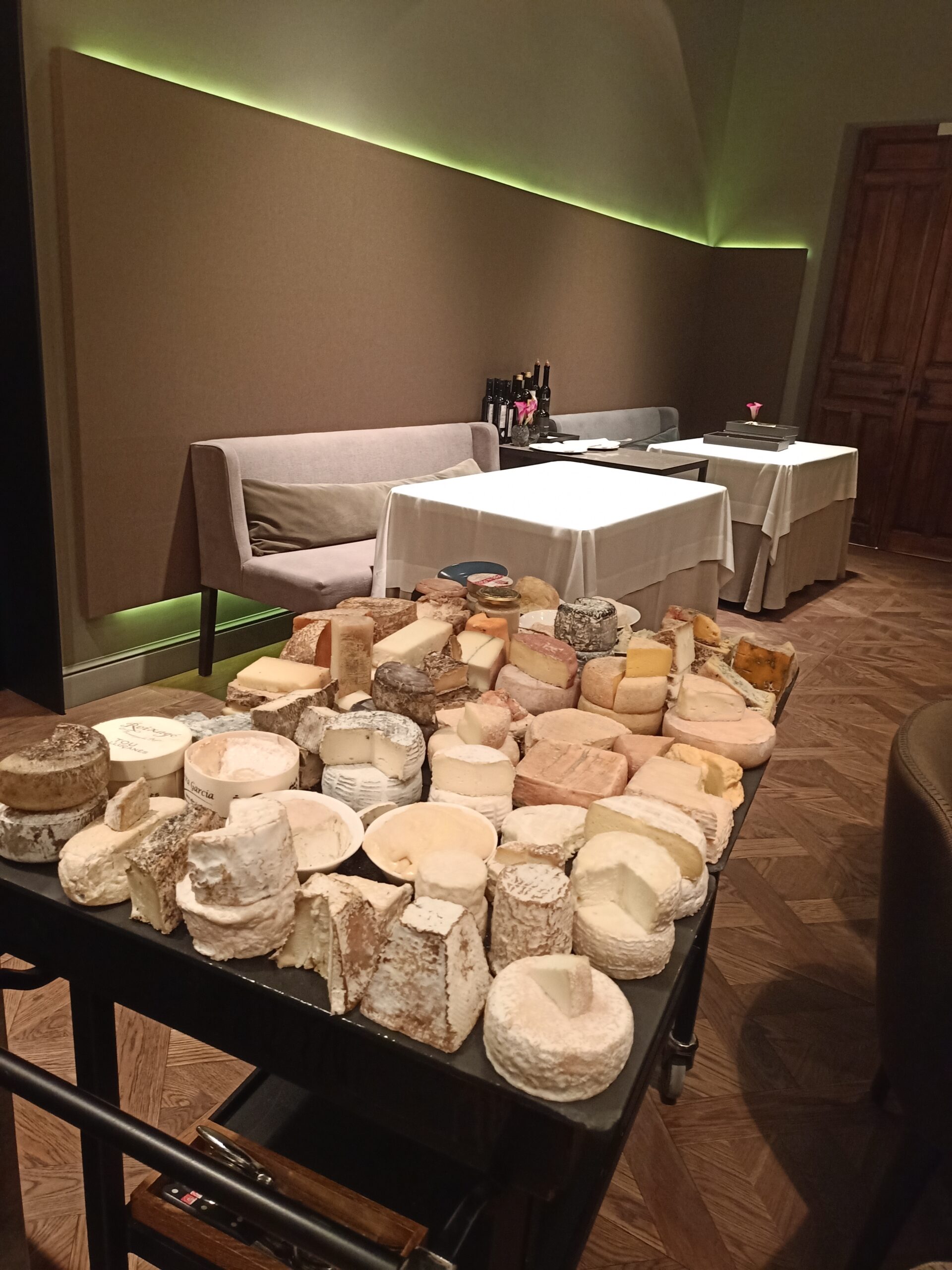 Before we left, we notified everyone to be at the bus at 9:00h the next morning in their best team-outfits! Later, after a not-so-straight walk back to the hotel around 1:00 am, there were not a lot of people left to enjoy the afterparty on the veranda of the hotel (which was probably for the best. This way I had some hours to create my presentation for the last day of the event 😉).