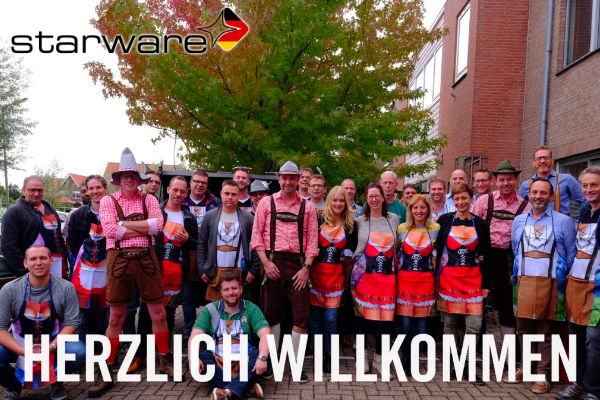 Reeuwijk, 19 January 2017 – Starware, a specialist in the field of logistics and supply chain software solutions based on JDA Software, is happy to announce that it has expanded to Germany and opened its first international office in Hamburg.
Starware operates globally from its corporate headquarters in Reeuwijk and the branch office in Venlo, both in the Netherlands. Nonetheless, from now on they offer their services also from the new office in Germany. This way the communication with German companies can be carried out in German, which removes the language barriers.
"The decision to expand to Hamburg was a logical next step in our business' growth strategy", said Marc Roelofs, CEO of Starware. "We already have been operating in Germany for a couple of years. Until now, our Dutch colleagues carried this out. Now we can better focus on helping German companies in their native language. As a start, we will host an event with JDA software in our new office on the 29th of March. We hope to see you there at the"JDA 3PL Connect".
About Starware
Starware performs warehouse management system-development, meaning we help our customers to define, design, implement, test, and support all aspects of a modern fulfilment centre with the best software on the planet: Blue Yonder WMS.
We specialise in running complete implementations of Blue Yonder WMS, migrating existing WMS software and adding new features to the Blue Yonder WMS using the rich extensibility possibilities. We have worked in over 500 projects in the worlds most successful supply chains.
At Starware, we are in it for the long run. This shows in everything we do. We care deeply about our employees, customers and partners and form bonds that last for decades, we run our company based on common sense. We spend less than we earn, we finance our own growth and spend our money on things that matter the most for us at any given time.
Find out more at www.starware.nl