You would think with this whole coronavirus situation, the workplace (my home in this case) would be a bit quieter and boring. That couldn't be further from the truth! Being locked up at home didn't stop me from getting my creativity flowing. Let me introduce you to Starware's Survival Kit for Remote Workers.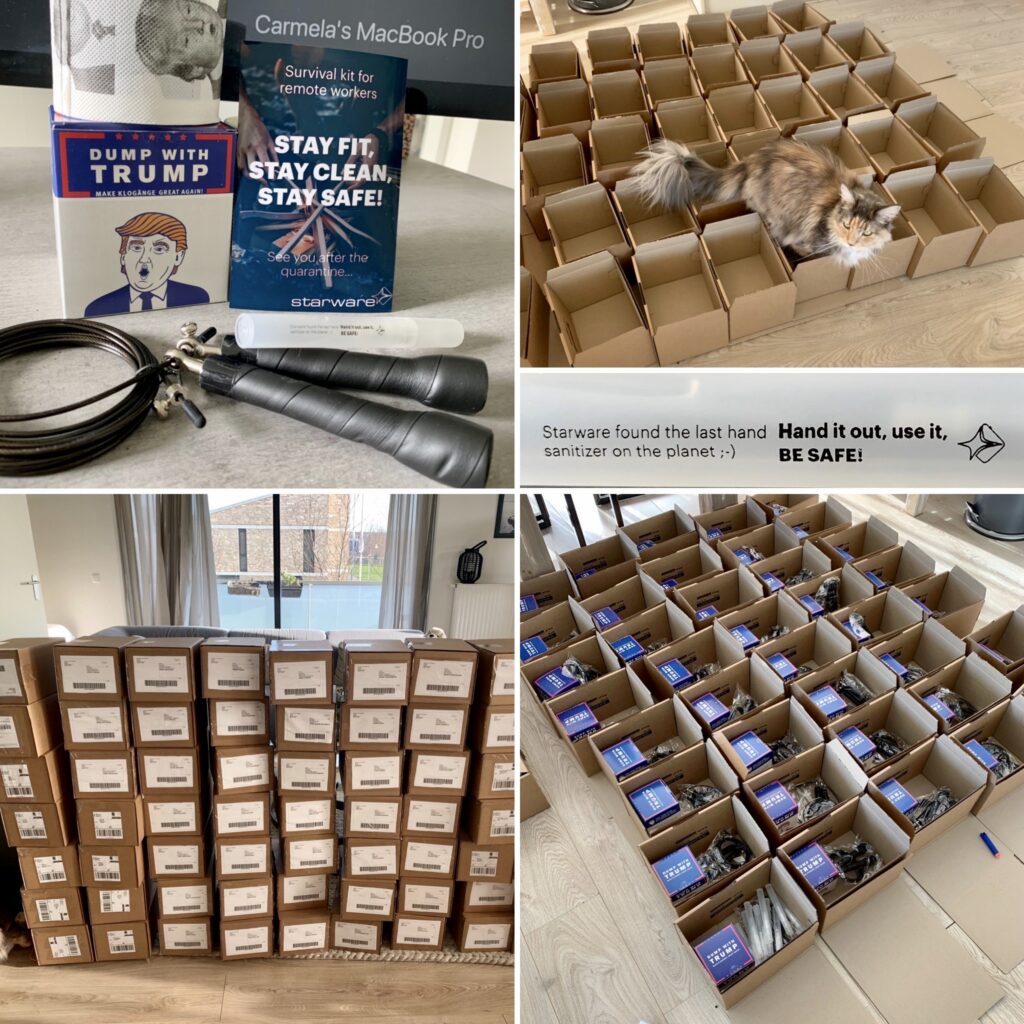 The beginning
A couple of weeks ago, when everyone was emptying shelves in the supermarkets and finding toilet paper was a real expedition, Roland, co-founder at Starware reached out to me with the idea of sending some personalised hand sanitiser to all our colleagues. It was a nice idea but why stop there? Why don't we make it a "Remote Working Survival Kit"? 
We wanted to lift the mood and bring a smile into our co-workers & friends face's in these difficult times. As they say, humour is the best medicine.
Survival kit content
So I started looking for ideas to make the kit complete and contacting providers because absolutely everything was sold out. Eventually, I ordered plenty of hand sanitiser to keep you safe, jumping ropes to keep you fit, and rolls of toilet paper with Trump's face on it, for real emergencies ?.
Together with the items, we included a small card we designed for this occasion, with the slogan "Stay fit, stay clean, stay safe!" 
A warehouse in the livingroom
Back to the story, I put some boxes in quarantine for a couple of days, just to be safe. And when everything arrived, it was time to start packing. I turned my living room into a small warehouse! You could almost implement a BY WMS to help me through the receiving, kitting, packing and shipping process.
The conclusion
This was a very inspiring exercise, and it taught me how to bring the best out of the most difficult situations. Even when being confined at home, it's still possible to be creative. And what's more important, use creativity to help others.